Welcome to Sunscape Bermuda B&B
Sunscape Bermuda is a great alternative to large hotels,
it offers a wonderful home-away-from-home setting!
Sunscape Bermuda is a handsome house standing on top of Lusher Hill exhibiting breathtaking views of the entire island. It is only 5 minutes by moped to the beautiful sands of Warwick Long Bay and just a stroll from there to the Horseshoe Bay. The parish of Warwick is renowned for its elegant neighborhoods, stately homes and an abundance of parks and nature reserves. The Railway Trail is perfect for walking, jogging or biking as cars and trucks are not permitted to drive upon it. It is reserved for just mopeds and hikers.
It is about a ten minute walk down to Warwick Long Bay or Chaplins Bay - a secluded cluster of coves that includes Stonehole Bay and Jobson's Cove. These are truly the last word in romantic deep pink sands, strewn with sea shells and gently lapping waves. All that is needed is a picnic, a book, and good company…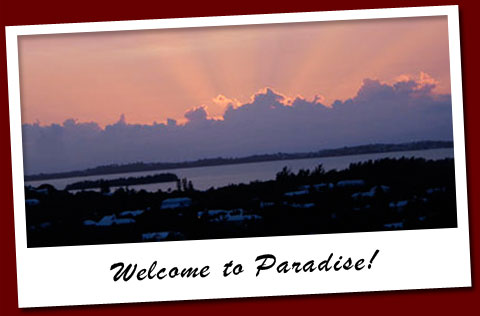 South Shore Road has wonderful views of the South Shore as you roll along on a bus or a moped: magnificent cliffs and many secluded beaches for you to explore, from Southampton to Paget. The bus service runs along South Shore Road or Middle Road east to Hamilton, or west towards Somerset. There is a bus stop close to the house.
For the more adventurous, mopeds or scooters can be ordered upon arrival (these are paid for by credit card only). Nearby attractions that you wouldn't want to miss include The Botanical Gardens as well as Paget Marsh Nature Walk and the meandering trails of the Railway Trail System. Also be sure to explore Somerset and Dockyard at the end of the island in Sandys Parish, with its captive dolphins, beaches, pubs, museums and shops to enjoy!